A front-runner with an astounding 14 award nominations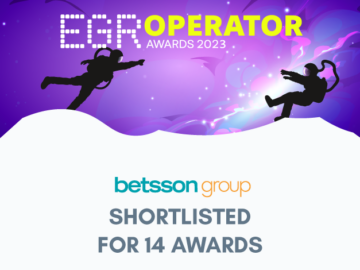 Betsson Group proudly emerges as a front-runner with an astounding 14 award nominations at the highly anticipated EGR Operator Awards 2023. The event, renowned for its recognition of trailblazers in the B2C operator landscape, is set to take place on October 26th, 2023, in London.
Celebrating Excellence Across the Board
The EGR Operator Awards stand as a testament to innovation, excellence, and unwavering commitment to setting new standards in the gaming and gambling industry. This year, Betsson Group finds itself in the spotlight across an array of categories, reflecting its unwavering dedication to delivering top-tier products and services.
The distinguished categories Betsson Group has been shortlisted for are:
– Affiliate Programme: Leading the way in partner collaborations.
– Casino Operator: Pushing the boundaries of gaming entertainment.
– Customer Services Operator: Delivering unparalleled customer experiences.
– Diversity and Inclusion Model of the Year: Leading by example in fostering diversity and inclusivity.
– Employer of the Year: Acknowledging our commitment to creating an exceptional workplace.
– ESG Strategy of the Year: Recognising our leadership in Environmental, Social, and Governance initiatives.
– Horse Race Betting Operator: Setting new standards in horse race betting.
– Marketing Campaign: Creativity that resonates.
– Mobile Casino Product: Elevating mobile gaming to new heights.
– Mobile Sports Product: Revolutionising sports engagement on mobile platforms.
– Operator of the Year: An accolade that highlights our industry leadership.
– Safer Gambling Operator: Demonstrating a commitment to responsible gambling.
– Slots Operator: A standout in the world of slots.
– Sports Betting Operator: Pioneering innovations in sports betting.
Behind the Scenes: A Rigorous Evaluation Process
The EGR Operator Awards are more than just a ceremony – they're a testament to hard work, dedication, and industry prowess. EGR assembles an impartial panel of external judges with an intricate understanding of the gaming world. This panel meticulously curates the shortlist, ensuring that each nominee stands as a pinnacle of excellence.
Countdown to the Unveiling
October 26th, 2023, is set to be a night of celebration as the winners of the EGR Operator Awards are revealed in the vibrant city of London. It's a time for industry leaders to shine and be celebrated for their innovation, dedication, and outstanding contributions.
About EGR and Betsson Group
The EGR Operator Awards are organised by EGR Global, a leading B2B publisher and networking group for the online gaming and gambling industry. Betsson Group, a frontrunner in the industry, is honored to be shortlisted for these prestigious awards, showcasing its commitment to excellence, innovation, and pushing the boundaries of what's possible.
As the countdown begins, the entire Betsson Group family eagerly anticipates the grand reveal, with hopes high for emerging victorious across these diverse and competitive categories. Stay tuned for updates and the latest news as the journey to the EGR Operator Awards 2023 continues!