Betsson is Grand Sponsor of the International Cycling Tour of Greece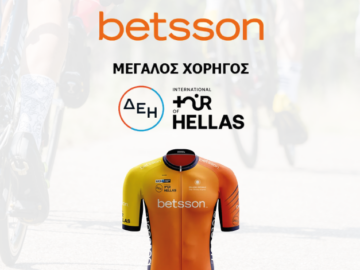 The ΔΕΗ International Tour of Hellas has announced Betsson as a Grand Sponsor of the International Cycling Tour of Greece and sponsors of the King of the Mountains jersey. This was announced at the Velodrome within the Olympic Athletic Center of Athens under the auspices of the Deputy Minister of Culture and Sports, Lefteris Avgenakis.
Greece is placed at the heart of cycling with the first ever cycling tour after 10 years of absence (27 April – 1 May 2022) and Betsson is the Grand Sponsor of the event.
The priority of the Cycling Tour of Greece is to further develop cycling racing in the country whilst at the same time lay the foundations in Greek society to establish a cycling consciousness that is important in a period of climate and energy crisis.
The tour will start in Heraklion, Crete on April 27 with the presentation of the 21 Professional and National teams and their 147 athletes. The finish line will be at Lake Pamvotis of Ioannina and athletes are expected to arrive on May 1st.
The event will take place in five regional communities, Crete, Attica, Sterea, Thessaly, Epirus as well as in nine large municipalities with starts and finishes.
In detail, the phases of the ΔΕΗ International Tour of Hellas:
1st phase: Heraklion-Rethymnon-Chania 190,1km (27/4/2-2022)
2nd phase: Athens (OAKA-Maroussi) – Itea 165,0km (28/4/2022)
3rd phase: STAGE: Delphi – Lamia – Karditsa, 172,5km (29/4/2022)
4th phase: Karditsa-Plastira Lake-Larissa 174,0km (30/04/2022)
5th phase: Meteora (Kalambaka) – Ioannina, 154,5km 1/05/2022
The race will have wide media coverage across Europe, the Middle East, New Zealand, Australia, Japan, China, Southeast Asia, India, South Africa, as well as North and South America.
During the announcement of the ΔΕΗ International Tour of Hellas (27 April – 1 May 2022), Thanos Marinos, Managing Director of Betsson.gr, said: "It is an honor for us at Betsson to be in a position whereby we can support this event. This is another major sponsorship we are involved in Greece in collaboration with the Deputy Ministry of Sports, following the successful partnership with the EKO Acropolis Rally in 2021. Through Betsson's 59 years of existence, this is the first time that we are sponsoring a cycling tour and I am delighted to share the excitement of our 2,000+ Betssonites across the world about this event. As a company that values social responsibility, and have excellent organisational skills and we are committed to supporting the tour committee in both areas."