In an event that took place at OAKA on 20th June and organised by the Deputy Ministry of Sports in Greece, it was announced that the EKO Acropolis Rally will once again be hosted by Greece this year , with Betsson as the Official Sponsor of the event for the second consecutive year.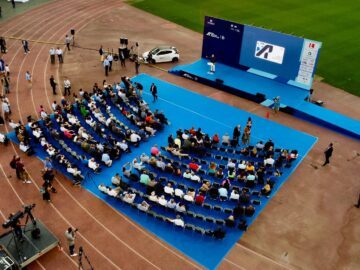 From 8th till 11th September the attention of all global motorsport fans will be focused on Greece, with Betsson supporting the drivers' efforts.
During the official presentation of the event, the Deputy Minister of Culture and Sports, Lefteris Avgenakis, stated, "We bring the Rally of the Gods to Athens, to OAKA."
The start of the EKO Rally Acropolis will take place on Thursday, 8th September at the Olympic Stadium in Athens. At the start of this spectacular route, witnessed by tens of thousands of spectators, Betsson will have a stand from where it will be offering multiple surprises and gifts to those who will experience up close and personal the intensity of this great event.
The routes presented were three in total: the well-known special route "Harvati" (14.02 km) in Corinthia, the "Livadia" (21.21 km), known as "Evangelistria", and also a route that will be used for the first time, called "Dafni", in the Municipality of Tanagra, with a length of 17.45 km.
During the presentation of the EKO Rally Acropolis 2022, the Managing Director of Betsson Greece, Thanos Marinos, added that, "As a leading betting company, Betsson has been supporting the organisation of this event in Greece, which is in synch with the Minister's vision. When this sponsorship idea was originally presented to us, we immediately started working on it and found great support from the Ministry's teams who have worked tireless in presenting the vision, integrating it in their work, and then executing it to perfection. It is really positive that we see such well-functioning teams within the public administration.
"As a company licensed in Greece, we are able to be closer to society not only through our operations but also by paying taxes locally and contributing to the national budget. In this way we are an officially licensed operator in Greece which builds further trust with our customers."
Betsson's MD for Greece concluded by thanking all the participants, the drivers and the executive committee. "The results of their combined work and dedication speak for themselves. We have never witnessed such a race and we are sure that this year's race will be even better and once again exceeds everyone's expectations!"