Betsson introduces "A Bet Makes the Difference," a worldwide marketing concept emphasising the thrill of betting over just big wins. The innovative in-house commercials will debut across 10+ European and Latin American nations, marking Betsson Group's most ambitious production yet.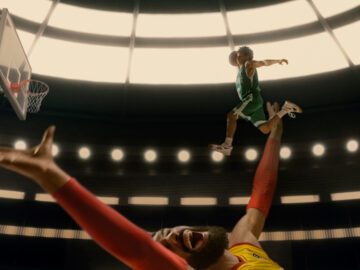 Betsson, which celebrates 60 years this year, is now launching a new global marketing concept titled "A bet makes the difference". This concept reinforces earlier messages that betting is more about elevating excitement rather than big wins. The new commercials, primarily developed in-house, represent Betsson Group's most ambitious production to date and will initially roll out in over 10 European and Latin American countries.
Betsson Group's flagship brand Betsson, has recently achieved significant growth, particularly in Latin America, where it recently became the main sponsor of the legendary football club, Boca Juniors, in Argentina. Jesper Svensson, CEO of Betsson Group, explains, "As we expand our presence across various markets, we have established an in-house international creative hub. I am really excited to unveil our most ambitious commercial yet, solidifying Betsson as the most exciting brand in the industry."
The core of this new concept highlights the inherent excitement of betting rather than fixating solely on winnings. According to Kay Höök, Global Brand Director on Betsson, "While we can't control the excitement of a match or guarantee wins, we can assure our customers that placing a bet, small or big, will amplify the excitement. While many other betting companies focus on big, quick wins, our emphasis lies in cherishing the excitement itself and the heightened entertainment that a bet provides."
To underscore this message, the commercials illustrate how a seemingly unremarkable and lackluster match is transformed into an extraordinary and highly exhilarating experience when one person in the audience places a bet. The film, directed by multi-award-winning director Rodrigo Saavedra (Immigrant), unfolds in a dramatically charged setting and its production is similar to a prominent global lifestyle brand. Even for casino, the commercial strives to highlight the excitement of a bet as a form of entertainment, rather than the more typical focus on winning moments.
Kay Höök further elaborates, "Our goal is to enhance the entertainment value and intensify the excitement for our customers. While potential winnings remain a possibility, we don't want the prospect of winning to define our communication. Our message is that when you gamble responsibly, you will enjoy the excitement even if you don't win."
For Betsson, this innovative global marketing concept marks a significant stride towards reshaping the industry landscape and redefining the essence of entertainment through responsible engagement.
Sportsbook TVC
Casino TVC