Two wins for Betsson Group at the International Gaming Awards 2022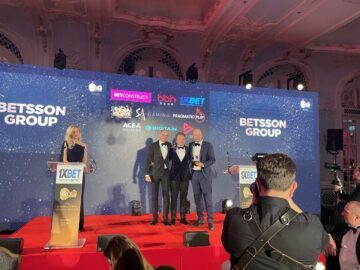 Betsson has walked away with two highly contested awards at the prestigious International Gaming Awards which were held on Monday evening in London. These awards recognise and celebrate the best companies within the iGaming industry, including online operators, land-based casinos, suppliers, providers, or manufacturers.
Safer Gambling Award
Safer Gambling is a very important cornerstone in Betsson's entire operations. This critical award recognises companies that have done more than ever to ensure the safety from problem gambling for their customers. The judges looked at things such as advancement in age verification technology, support for those recognised to have problem gambling issues, safeguards in problem gambling and strong KYC procedures. Judges also considered how the company have been part of the discussions around safer gambling and campaigned for advancement in research, as well as the extra effort and focus the company gives to understanding and resolving problem gambling within the industry. This is not the first time that Betsson has won this award – it also won the same category at the International Gaming Awards of 2019 and 2021.
Great Place to Work Award
For Betsson to win this category, judges looked deeper into the definition of what usually is looked at. Besides simply looking at workplace perks, events and benefits, the deciding factors by judges when awarding this very special category were the diversity and inclusivity of the employee demographic, the trust that exists in leadership, the fairness and employee wellbeing and engagement, and the ability to prove that actions taken by the company bring about real cultural change within their workplace. This is the second time that Betsson has been crowned as 'Great Place to Work'. Besides the win in 2022, it also won this category in 2020.
For an entire list of awards that Betsson Group has won during the past years, click here.