We're thrilled to announce that two Betssonites have made it onto this year's GIQ HOT50 list!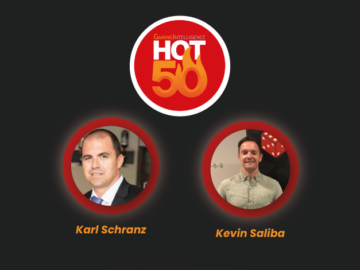 The Hot 50 list celebrates those who have achieved great things in our industry as well as those who are expected to do great things. Karl has been with Betsson for eight years and has played a pivotal role in constructing a strong commercial foundation for the company over the past five years. His exceptional negotiation skills and dedication have enabled him to secure advantageous deals and partnerships that have greatly benefited the company and contributed to its ongoing success. After serving as acting Commercial Director for a few months, he was promoted to Director for Gaming in January, 2023. His Hot 50 accolade is well deserved!
On the other hand, Kevin has almost 15 years of experience at Betsson Group, and his success in leading several of our launches into new markets in Latin America is impressive. Kevin is Betsson's Commercial Director for Business Development and he has done a phenomenal job of building the right teams for each market and managing the acquisition and integration of Inkabet in Peru. Kevin knows our business really well, having started as an acquisition marketing coordinator in 2008 and moving up to management roles covering the United Kingdom, Western Europe, and now Latin America. The Latin America region is a significant part of Betsson's growth strategy, and Kevin deserves credit for the success that we achieved in the region to date.
Join us in celebrating the achievements of Karl and Kevin and check out the Hot 50 list here: https://hot50.gamingintelligence.com/