We proudly announce our next Hackathon at Betsson Group Budapest!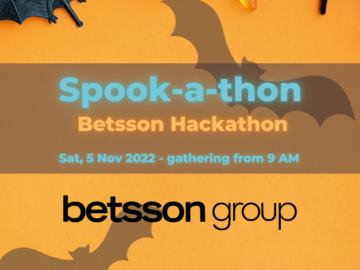 Create the spookiest empire, use fun obstacles, spook out the other teams, and win the territory conquest!
PRIZES (MediaMarkt vouchers)
1st place: 50.000HUF/person
2nd place: 25.000HUF/person
3rd place: 10.000HUf/person
HOW
– Put together your team of 3-4 devs and register here: https://forms.gle/Vap6DzgaeiKrwH886
– Decide on a team name, write down your team story and start brushing up on your skills!
– We will provide a basic algorithm you can start with. It will be in TypeScript/JavaScript or .NET, so all you need to do is to pick your favourite programming language to start spooking out.
– There will be many obstacles on the way, and you will need to improve your solution in order to expand your empire!
Lunch, gifts, drinks and snacks for all participants!
WHEN
5th November, 09:00 CET – 20:00 CET
WHERE
The Betsson Grand Prix 2022 will be held at our Hubsson Office in Budapest. Please bring your own laptop and charger.
MS Teams (you'll receive the link the day before the event)
CONTACTS
Aron Kalo (Software Engineer) – aron.kalo@betssongroup.com
Eszter Matai (Recruitment Partner) – eszter.matai@betssongroup.com
AGENDA
9:00 – Gathering 30min
9:30 – Explanation 30min
10:00 – Coding 3hrs
13:00 – Break 1h (incl. lunch)
14:00 – Coding 2.5h
16:30 – Break 30min
17:00 – Coding 2.5h
19:30 – Finale
20:00 – Afterparty
REGISTRATION DEADLINE
November 16:00 CET
By submitting your application, you understand that your personal data will be processed as set out in our Privacy Policy.