StarCasinò Sport, the sports infotainment brand of Betsson Group, is the new main jersey sponsor of SS Juve Stabia for the 2023/24 season. This collaboration signifies another important step in Italy, connecting the brand with an additional historical sports entity in southern Italy. StarCasinò Sport is already a proud partner of SSC Napoli in Serie A, Palermo FC in Serie B, and ACR Messina in Serie C.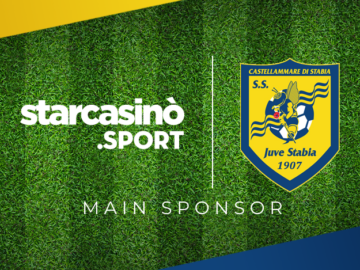 The timing of the collaboration aligns with the anticipated derby against Sorrento, a critical match in the Serie C championship scheduled for Sunday, the 19th of November, at 18:30 in Castellammare di Stabia. This crucial match holds great significance for the Stabia team, currently leading the Italian third league.
As proven before, StarCasinò Sport is committed to being an active sponsor, accompanying the club and its fans throughout the season, in conducting interviews with players, creating exclusive content for the yellow-blue community, and organizing events for the local community.
"This collaboration is another example of our extensive sponsorship commitment in Italian football. Juve Stabia is not only an important and historical club; it also strengthens our presence in the southern Italy region. This reflects both our short-term commercial interests and our long-term strategic objectives as a Group. It's important to note that many of us here are passionate sports enthusiasts. Given Juve Stabia's legacy of over 100 years, we will approach this sponsorship with great humility, energy, and excitement", says Ronni Hartvig, Chief Commercial Officer of Betsson Group.
"A historic agreement, a source of pride for our entire organization. S.S. Juve Stabia continues in the process of enhancing its image, aiming to achieve its true goal of becoming an international entity. This reached agreement is the result of significant ongoing planning and effort. We will work side by side to develop alternative communication processes, creating new formats that will allow fans to better understand our players and our club. The brand gains new importance, even at an international level, by aligning itself with a major brand like StarCasinò Sport, the sports entertainment website of Betsson Group. I thank Stefano Tino, Managing Director of StarCasinò Sport for accepting and sharing our project. I extend my congratulations to our management, from CEO Filippo Polcino to all the other executives, who are driving forward the growth initiatives we have set for ourselves," stated Andrea Langella, President of S.S. Juve Stabia.
This partnership further reinforces StarCasinò Sport's dedication to Italian football and emphasizes our commitment to enriching the local community by bringing the thrill of the sport closer to the fans.