The sports entertainment brand will support the Capital's team throughout the 2023/24 season with activities and initiatives dedicated to the fans.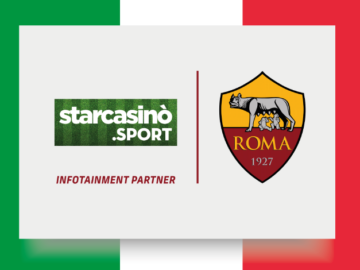 StarCasinò Sport is proud to announce the extension of its partnership with AS Roma, reaffirming its status as the Centurion Partner in the Infotainment category for the 2023/24 season. Following the success of its collaboration in the previous season, StarCasinò Sport is committed to delivering exclusive content tailored to the dedicated Giallorossi fanbase. This content will include player interviews, previously unpublished stories, news and much more. From Rui Patricio to Dybala, including captain Pellegrini and the emerging talent Bove, our sports entertainment platform will provide behind-the-scenes stories and an intimate glimpse into the lives, both professional and personal, of these Roma champions.
The Roma community, renowned worldwide for its ardent enthusiasm, will now have unprecedented access to their cherished players and the team. This initiative underscores the sentiment expressed in the phrase "Gialla come er sole, Rossa come er core mio" which translates into "Yellow as the sun, Red as my heart".
Furthermore, this renewed collaboration will see both organisations work together to offer the Giallorossi fans with unique experiences, exclusive activities, and innovative contests. Official AS Roma and StarCasinò Sport channels will provide guidelines for participating in exciting tournaments and trying to win desired Giallorossi-themed prizes, including VIP tickets to the Stadio Olimpico and autographed match jerseys. Additionally, the agreement includes prominent brand visibility for StarCasinò Sport across the club's official channels and during AS Roma's home matches.
Stefano Tino, Managing Director of StarCasinò Sport, stated, "The renewal of our partnership with AS Roma is great news for us. We are especially happy to be continue our collaboration with the club and the Giallorossi players. Throughout the previous season, we were impressed by the passion and devotion exhibited by the Roma fans from the stands at the Stadio Olimpico. Therefore, we look forward to providing this wonderful community with exclusive StarCasinò Sport experiences. We are confident that the upcoming season will be filled with moment of great satisfaction."
Michael Wandell, Chief Commercial & Brand Officer of AS Roma, echoed these sentiment, stating, "We are very excited to welcome back StarCasinò Sport back into our esteemed family of partners. With StarCasinò Sport, we share a common objection for our platform, namely, to prioritise our most passionate supporters, bringing them ever closer to the team they support and love."
About StarCasinò Sport
StarCasinò Sport is a sports entertainment platform, featuring exclusive content created by international sports icons directly for their dedicated fans. StarCasinò offers daily updates, captivating videos, and intriguing insights spanning a wide range of sporting events and disciplines, along with the latest gossip from the world of sports. Beyond this, StarCasinò Sport offers its audience numerous opportunities to participate in exclusive experiences and win great prizes.