A one-hour live webinar with an unfiltered account by a former compulsive gambler – part of the European Safer Gambling Week 2022 (ESGW)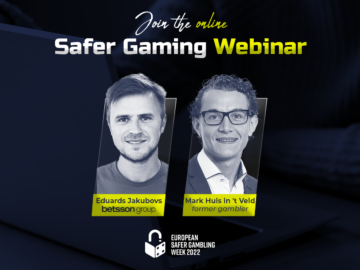 Join the 'When Safer Gambling Becomes Personal' one-hour live webinar during which Mark Huis in 't Veld, a former compulsive gambler, will narrate his personal story to Eduards Jakubovs, Head of Responsible Gaming at Betsson Group. Mark will elaborate on how he managed to overcome his addiction and the way he could be influenced to change his problematic behaviour.
We will also hear Mark's opinions on the methods that gaming operators can try to implement in order to alter the mindset of problem gamblers, and Eduards explain what kind of tools and support Betsson Group offers to players.
The live webinar is taking place online on Monday, 17th October. It starts at 14:00hrs CEST and is expected to last for an hour. Questions can be sent before or during the event on questions@betssongroup.com
Click Here to Register | Click here to read more
About the speakers
Eduards Jakubovs – Head Of Responsible Gambling, Betsson Group
Eduards started working in the iGaming industry in 2009 in Riga, Latvia when he joined a fast growing Swedish company, Betsafe, which at the time was expanding in the Latvian market. In January 2011, Eduards moved from Riga to Malta and in July 2011 Betsafe was acquired by Betsson Group. Eduards remained employed by the Group and after spending multiple years in various service-related roles – overseeing Complaints and Service QA functions – started focusing on Safer Gambling and AML in 2015. Eduards has been leading the Responsible Gambling Operations for the Group since 2017.
Mark Huis in 't Veld – Former Compulsive Gambler
Mark is 33 years old and lives in Deventer in The Netherlands together with his wife and their two daughters. He works at a large accountancy organisation and runs his own business: Huis academie, which consists of giving lectures and readings at colleges. He is a big fan of Deventer's professional football club, Go Ahead Eagles, and he enjoys participating in marathons and reading books. He struggled with gambling between the ages of 16 and 31 where he played poker, casino, sports betting and traded Bitcoin. In October 2020, he stopped gambling with the support of Gambling Anonymous, through working on his personal development, and by attending a 10-day therapy workshop.
About the European Safer Gambling Week
The European Safer Gambling Week (ESGW) is an annual cross-industry initiative to promote safer gambling in Europe and is being organised by thirteen European online gambling associations. During the ESGW week (17-23 October), several activities to raise awareness about safer gambling will be organised across Europe. The goal is to share information about the latest developments in safer gambling regulations, take a look at the current tool-set available for consumers, tips on how to gamble responsibly, analysing research and data, and much more. The 'When Safer Gambling Becomes Personal' webinar is hosted by Betsson Group.